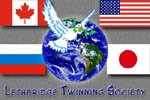 About us
Culver City
---
Trip to CC - 2008
Album (new!)
---
Timashevsk
Towada
City of Great Falls
---
News
---
Constitution
---
Meetings
Next meeting
---
Upcoming Events
Last event
Election results
2012 events
2011 events
2010 events
2009 events
2008 events
2007 events
2006 events
---
AJTMA Conference
Album
---
Centennial Project
Album
---
President corner
---
Links
Wiki: Lethbridge
---
Guestbook
---

Upcoming Events

Japan-Alberta Relations: Past and Present – Towards New Perspectives
April 22, 2013

The Lethbridge Twinning Society is pleased to host Mr. Susumu Fukuda, Consul General of Japan in Calgary, at the Lethbridge Public Library, (Downstairs Theater Gallery) from 7:00PM – 9:00PM - May 13th 2013.

Consul General Fukuda will present a key lecture entitled: "Japan-Alberta Relations: Past and Present – Towards New Perspectives".

This insightful lecture from an authority on Canada-Japan relations will also offer an opportunity of hearing from a panel of local individuals. The panel will focus on educational, cultural, social and economic issues relating to Japan.

Consul General Fukuda, who has previously been posted in several regions of Latin America, arrived in Canada in June 2011 to begin his tenure at the Japanese Consulate at Calgary. As a diplomat representing Japan, Mr. Fukuda has made several visits to Lethbridge and area and has participated in celebrating the Nikka Yuko Japanese Garden's 45th anniversary. In October of last year, Reeve, Lorne Hickey was host to Mr. Fukuda, showing him on a tour of Southern Alberta. The lecture is free and open to all. Light refreshments will be served.

For further information, please contact:
Carol Kensley – Director of Public Relations
Lethbridge Twinning Society – 403-381-3575
e-mail: carolkats337@hotmail.com





Youth Ambassadors - 2012 for the 2013 Volunteer of Excellence Awards Nomination
March 01, 2013

The Lethbridge Twinning Twinning Society has nominated the three "Youth Ambassadors" from 2012 for the 2013 Volunteer of Excellence Awards (Volunteer Lethbridge) . The three nominees upon their return from the Youth Ambassador program last summer, prepared a proposal for a "community service project". They then independently planned, fashioned and implemented a project with a very realistic goal of collecting warm winter clothing for those less fortunate. They called their project, "Clothes for a Cause – Winter Edition". Although their goal was for 50 sets of clothing, they exceeded their goal by almost three times! The girls as well contribute selfless hours and energy to various community organizations ranging from, Big Bothers and Sisters, Air Cadets, Church groups, Student Council involvement and even on youth advisory boards! We are very honored and proud to have these young ladies and their families as members of the Lethbridge Twinnng Society. We are hoping the best for your nominations for the Youth Volunteer Excellence Awards!


Welcome Risa Kumasaka
February 9th - 2013 - 6:00PM

Please come and join us at the New Dynasty Restaurant for a Lethbridge Twinning Society gathering as we welcome Risa Kumasaka! We will enjoy a group meal, fun and as usual extend the hand of friendship to Risa as she comes to our community from Japan via the Towada - Association for International Relations to learn English and our Canadian culture.

Please RVSP to Carol or Harold.

(Cost is $15.00 per person)



34th Annual Ice Breaker Road Race Information
April 28, 2013

This years' race will be on April 28, 2013 – registration begins Monday, March 11, 2013.

Join member of the Lethbridge Twinning Society as we head down to Great Falls, Montana on April 28th to "Break some serious Ice!". Please see the web site: icebreakergf.com.

If you are interested in joining us on this special and fun activity, please contact Carol Kensley.



Pilot Project to Begin – English as Second Language and Canadian Cultural Experience
February 04th to March 18th – 2013

The Lethbridge Twinning Society in conjunction with the Towada-Association for International Relations is very pleased to introduce a "Pilot – Project" that we believe will become a mainstay and a model to other English as a Second Language seekers.

On February 04, 2013, Ms. Risa Kumarisa will be arriving in Lethbridge. She will be greeted by members of the Lethbridge Twinning Society (LTS)and will be provided homestay facilities that have been arranged by the LTS. She will be accepted at Flexible Learning Systems (FLS) where she will enter into a customized "English as a second language" (ESL) program. The Manager at FLS is a long time LTS member and has assisted in several ESL programs for us in the past. The outcomes have all been stellar.

We welcome Risa!


The Culver City Sister City Committee's 50th year anniversary
January 05, 2012





The Culver City Sister City Committee is celebrating their 50th year anniversary this year! Congratulations!

Members of the Lethbridge Twinning Society will be attending the celebration on January 12, 2013. (Lethbridge and Culver City have been "twinned" in since 1989). All Lethbridge Twinning Society members are welcome to join our delegation and we expect to take a few leisure days while in Culver City. We understand that His Worship, Mayor Rajko Dodic will be attending.

Currently, our Director for Culver City, Michael Bennett, is busy working with the Chair of the Culver City Sister City Committee in preparation for this momentous occasion.


"Right to Play" Opportunity of a life time for LTS Member!
January 05, 2012



Lori Harasem lives in Coalhurst, Alberta with her husband, three children and pets. Lori is heavily involved in our community as a volunteer. Lori became a member of the Lethbridge Twinning Society last year. Lori has always dreamed of going to Africa and as a supporter of the values of Right To Play, she says that she "couldn't pick a better organization to share this experience with."

Lori will be joining a group heading to Africa in February as part of a campaign with Right To Play, a non-profit organization that uses sport and play to empower children in disadvantaged areas of the world.

Lori is the City of Lethbridge's recreation and culture development manager, and a new member of the Lethbridge Twinning Society. Lori will join a group which will include some of Right To Play's athlete ambassadors such as Olympian Clara Hughes. They will visit Liberia for a week around Feb. 25. Liberia, officially called the Republic of Liberia, is bordered by Sierra Leone to the west, Guinea on the north and C™te d'Ivoire to its east. It is home to about 3.7 million people and is known for its high poverty level.

Lori represents the caliber of individuals involved in the Lethbridge Twinning Society as members and her upcoming visit to Liberia is the very essence of what the Society is about and strives to achieve…….our members reaching out and making a difference in the world we live.

Lori's comment: "Here in the city there's lots of organizations very involved in trying to get children more active through play. I do a lot of work with those organizations in my job, so it is kind of a neat tie-in. We're always interested in trying to move forward in ensuring accessibility." http://www.righttoplay.com/International/Pages/Home.aspx

All the very best Lori! We look forward to hearing of your experiences when you return.